Product Introduction
The palm-sized Osmo Mobile 6 adopts a brand new axis lock design that helps wake up the device after being unfolded. A built-in extension rod unveils more shooting scenarios such as selfie with more friends, and shots from a low angle or more unique angles.
In addition, DJI OM Magnetic Phone Clamp 3 can be even used to hold mobile phones with a larger screen such as iPhone 13 Pro Max, and the buttons on the device can easily be used even with one single hand in various scenarios.
As for more smart functions, you can enable ActiveTrack 5.0 using the DJI Mimo app. If you prefer to get stunning shots during an adventure, Timelapse and Story Mode are also right there waiting.
For more details, please refer to Osmo Mobile 6 Specs.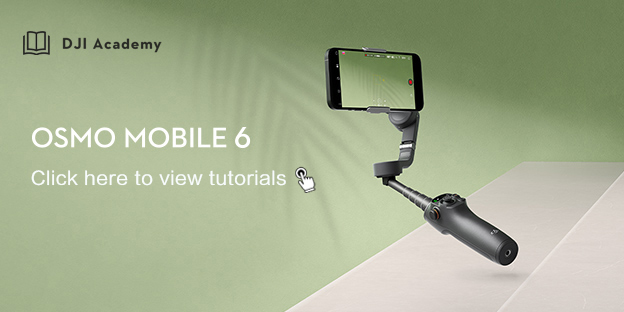 User Manual
For more information about the product, please refer to Osmo Mobile 6 User Manual.
App Download
After unboxing Osmo Mobile 6, click here to download the app first.
The files can be imported into the LightCut app (click here to download), a free AI video editor with numerous video templates and effects that can help you make stylish videos or vlogs in a fancy way.
Compatibility List
· Osmo Mobile 6 can be used with mobile phones with width of 67-84 mm, thickness of 6.9-10 mm, and weight of 170-290 g. It is compatible with most mainstream terminals instead of cameras.
· Mobile devices, as listed on the Osmo Mobile 6 Compatibility List, have all been well tested and verified.
Mobile Devices Outside the Compatibility List
Technically, the mobile device that fulfills all the abovementioned requirements such as width, thickness, and weight can be used with Osmo Mobile 6. Its compatibility and stability, however, may be affected as it is not tested.
Unboxing and Getting Started
Once you receive the product, please activate it first so you'll be ready to go: Please find the activation steps below.
What's In the Box
Let's see what's in the box of Osmo Mobile 6
Unfold the Device
You should unfold the device before usage. Notably, the quick launch function will wake it up immediately after it is unfolded, and it will power off once folded again. Also, it can be powered on or off manually by pressing and holding the M button for 2 seconds while it is unfolded.
Watch this video to learn more about (un)folding the gimbal:
Extend the Telescopic Rod
A telescopic rod is hidden inside the grip, and you can yank it out of the grip.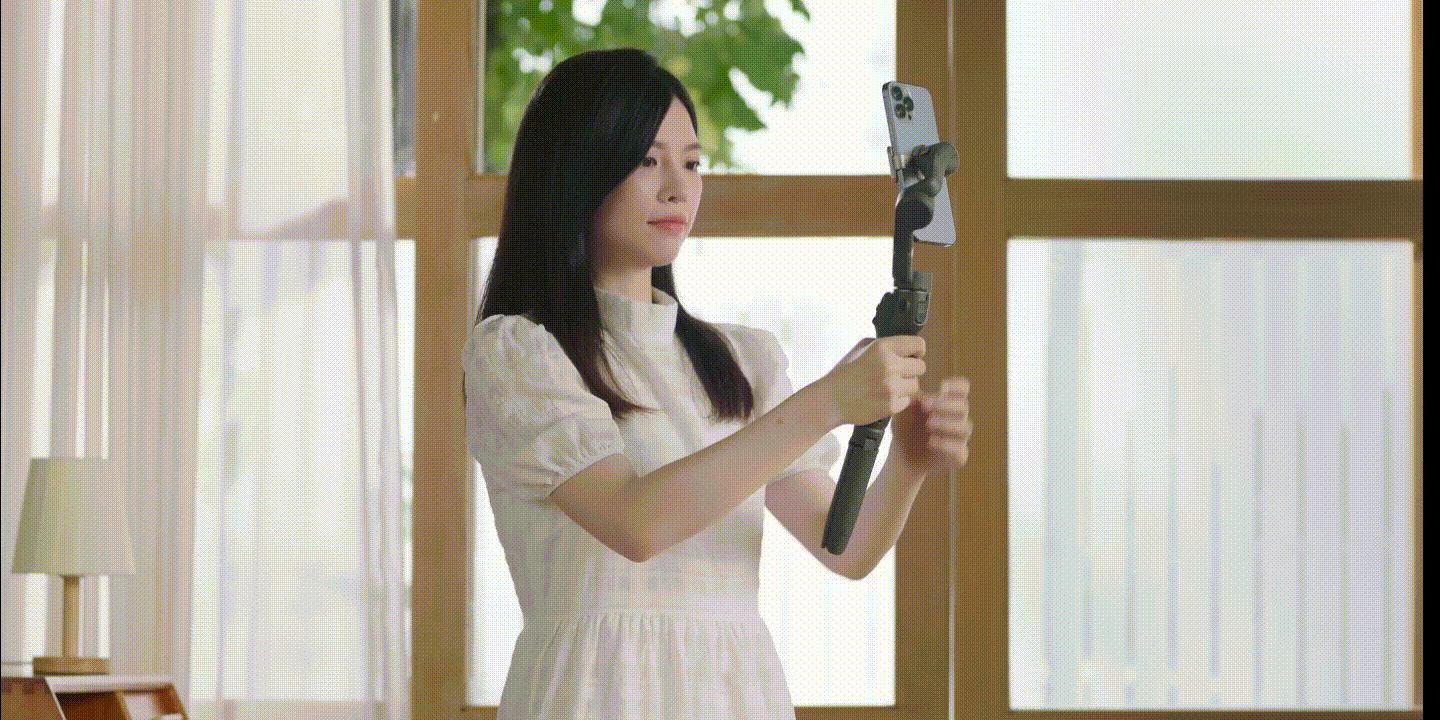 Attach the Phone to the Device
Ensure that the phone clamp should be placed in the middle of the phone, and the clips on both sides should be on a horizontal level, otherwise, it may cause gimbal shaking.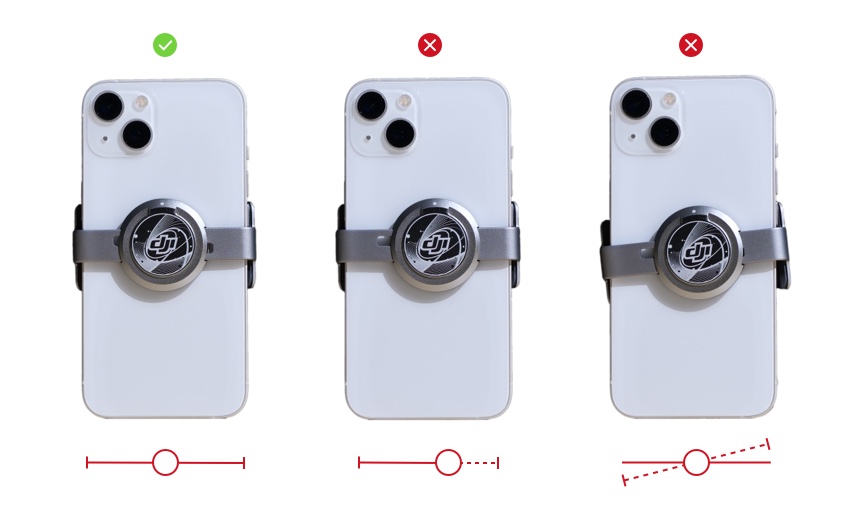 Storage
· Put the device into the packaging box.
1. Detach the mobile phone clamp and put it to the packaging box.
2. Fold the Osmo Mobile 6 and rotate the pan axis to lock in place. Then put the device into the box.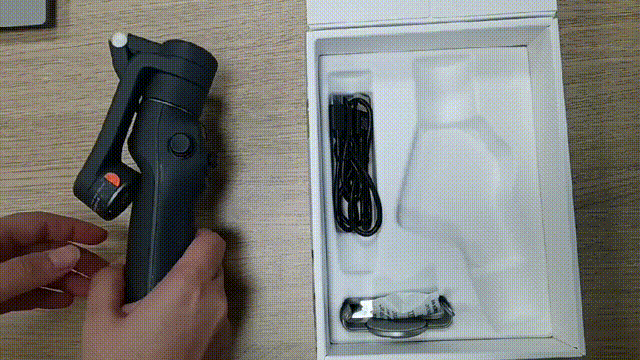 · Put the device into the Osmo Carrying Case
1. Put the Osmo Mobile 6, mobile phone clamp, and charging cable to the carrying case.
2. Place tripod and other items into the storage elastic mesh at the back.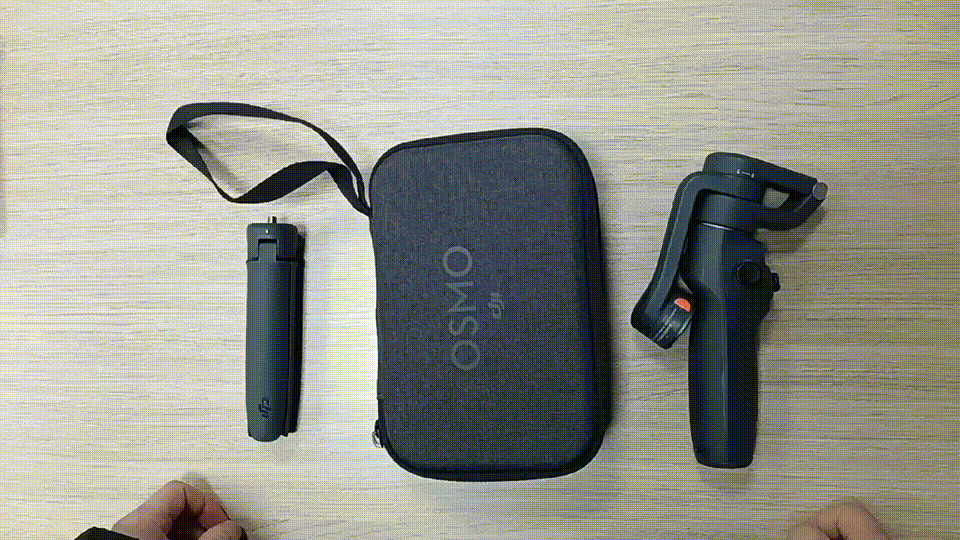 Activate the Device
Step 1: Enable the Bluetooth function of the mobile device.
Step 2: Launch DJI Mimo, and pair it with the phone through Bluetooth.
Step 3: If it is paired for the first time, you will see a prompt message in the app, and just tap the corresponding button to activate the device.
Watch this video to learn more about pairing and activation:
Search for the Activation Information
You can go to the Activation Info page for the specific information.
* Whether the device is activated or not will not affect the warranty period, which starts from the day of receipt.
* Warranty Period for Each Module click here.
Where to Find the Serial Number of the Product
On the surface of the device, or under the barcode on the outer box.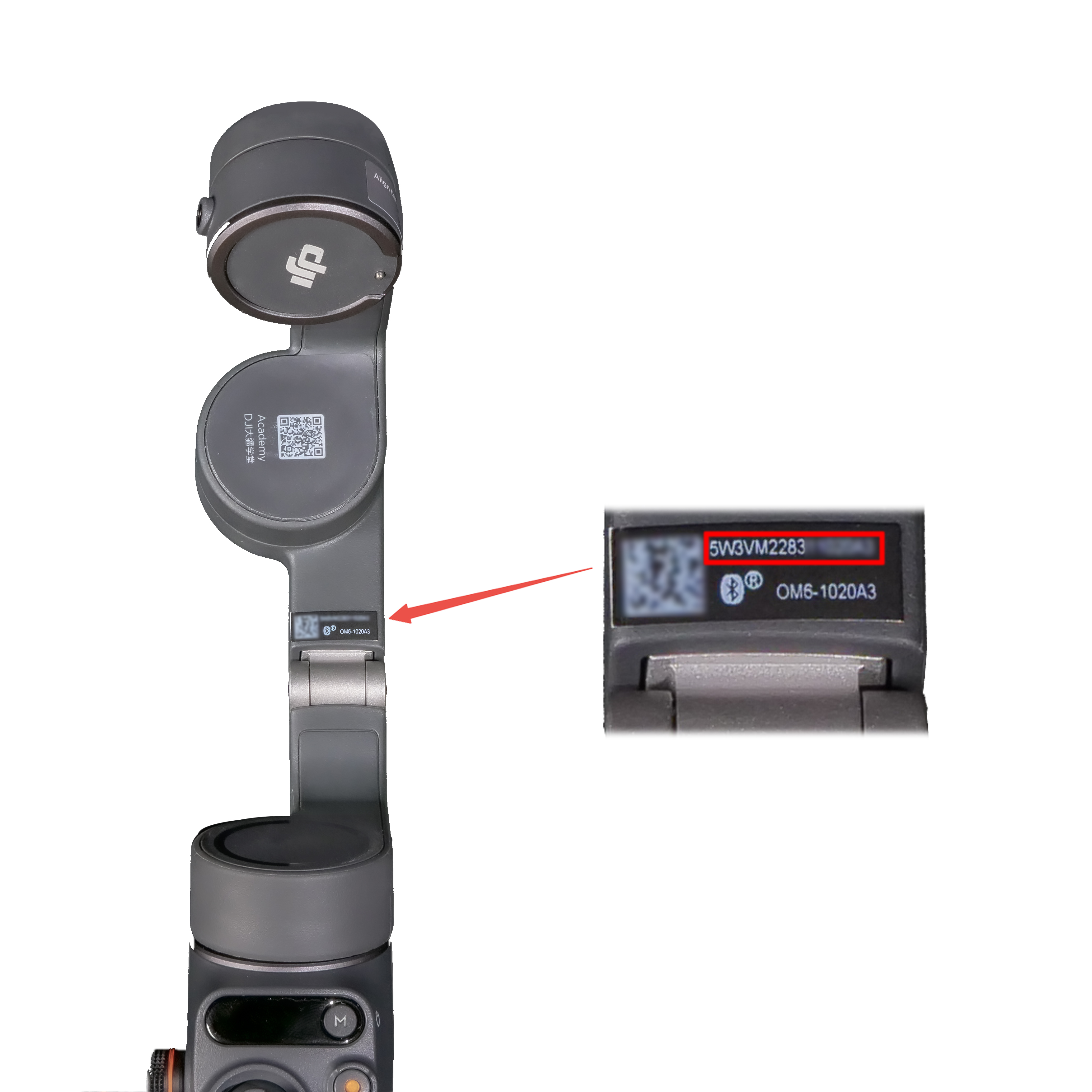 How to Understand the System Status Indicator?
Different from the previous product, Osmo Mobile 6 has a status panel that indicates the different status of the device by using different colors.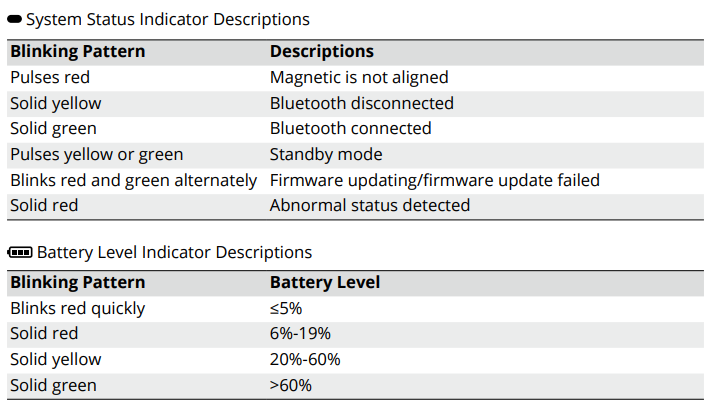 Watch this video to learn more about status indicator:
How to Use the Product
Osmo Mobile 6 is a handheld gimbal with no internal storage. All the shooting actions are completed by the phone camera, and all the files are stored in the phone.
What About the Buttons
Osmo Mobile 6 has a side wheel, integrating both the zoom and focus functions. You can adjust the focal length by turning the side wheel, making it smoother to zoom in or out. Press the side wheel once to switch it to the focus mode, helping shoot like a pro.
In addition, the M button can be used to switch the gimbal mode.
Watch this video to learn more about the buttons:
Quick Launch
It is what it is, quick launch once unfolded. Attaching the phone triggers the app alert, and then you can tap to enter the camera view instantly (Only iPhone).
Watch this video to learn more about Quick Launch:
ActiveTrack
The enhanced ActiveTrack 5.0 enables a more stable tracking experience and a longer following distance, and making the front camera of the phone deal with more complex scenarios such as the side face and back of head. It provides pretty much everything even when you go camping, travelling, or practice street photography. It helps keep the scene in frame and lets the phone camera tell a story.
Watch this video to learn more about ActiveTrack:
Gimbal Mode Switch
It has four modes: Follow, Tilt Locked, FPV, and SpinShot. You can choose any one of them based on the specific shooting conditions.
· Follow: pan and tilt axes follow, where both the pan and tilt axes follow the movement of the grip; and this mode is suitable for scenarios when moving up and down or on a slant.
· Tilt Locked: only the pan axis follows, where only the pan axis follows the movement of the grip; and this mode is suitable for scenarios such as arc shots or moving from left to right.
· FPV: pan, tilt, and roll axes follow, where all three axes follow the movement of the grip; and this mode is suitable for shooting the first-person view.
· SpinShot: pan, tilt, and roll axes follow, the joystick can be used to control the roll axis rotation, and SpinShot enables footage to be shot while rotating the camera 360°. This mode is suitable for shooting push, pull, and down views.
Watch this video to learn more about gimbal modes:
ShotGuides
It can intelligently recognize multiple scenarios, and based on this, recommend suitable camera movements and ultimate guide to shooting methods, and various video templates as well. Even if you are a newbie photographer, it will teach you how to use the camera to tell an epic story.
Firmware Update
Please use DJI Mimo to update the Osmo Mobile 6 firmware. After being connected to the app, it will prompt a message that indicates a new firmware is available. Then, all you need to do is to follow the on-screen instructions
Watch this video to learn more about firmware update:
Smart Features
Timelapse
Three modes of timelapse can be chosen:
· Fixed Angle: Equipped with the provided tripod, the camera can manipulate how frame rate is captured and we can feel how time flies in an entirely new dimension.
· Custom Motion: After setting up 2-4 positions for gimbal movements, the gimbal can move to each position in sequence, and we can see the camera movements from different perspectives the whole way through.
· Hyperlapse: It helps enable a stable experience of filming a travel with your mobile device. At this time, ActiveTrack can make the most of the device, realizing more stunning video effects.
Panorama
It helps take a 3×3, 240°, and CloneMe panoramic photo in portrait or landscape mode.
· 3×3 Panorama: After auto taking nine photos at a time, it will merge them into one single photo.
· 240° (or 1×7) Panorama: After auto taking seven photos at a time, it will merge them into one single photo.
· CloneMe Panorama: After auto taking three photos at a time, it will merge them into one single photo.
Story Mode
It contains multiple templates that allow you to create cinematic short videos or vlogs with just a few taps.
Dynamic Zoom
You can choose Move Out or In mode, easing the way to zoom in or out. It helps achieve the visual effect of stretching and compression of the image, make an epic story even with a single phone.
Live Streaming
It is not currently supported. If you would like to use this feature, it is recommended to use a third-party app instead of DJI Mimo. At this time, Osmo Mobile 6 can also be a great partner, enabling a stable shooting experience. For instance, use the joystick to adjustment the gimbal movements such as different shooting angles and re-centering.
How to Get it Charged
You need to find a micro USB adapter first, and then get the device charged with the provided USB-C cable connected to the adapter. If a 5V2A adapter is used, it will take approximately 1.5h to get it fully charged.
· If you do not have an adapter at hand, please find the "10W USB adapter" on an online store or buy it from a local store.
· The max charging power of Osmo Mobile 6 reaches 10W. Thus, it is not advisable to charge the device with a charger with charging power over 10W in case of any charging error or issue.
How to Choose Accessories
Currently, Osmo Mobile 6 comes with three mates: the phone clamp, sling pouch, and tripod. If you need any one of them, please go to our online store here.
What's DJI Care Refresh
DJI Care Refresh is a comprehensive and reliable protection plan that provides you with a bundle of benefits for accidental damages or even natural wear.
Purchase DJI Care Refresh 1-Year Plan (Osmo Mobile 6)
Purchase DJI Care Refresh 2-Year Plan (Osmo Mobile 6)
· [DJI Care Express] Doorstep pickup, lightning speed replacement, free two-way shipping, and exclusive service agent.
· [Comprehensive Protection for Multiple Scenarios] Maloperations, water damage, and collision.
· [Low-Cost Replacement] 1-year plan: up to 2 times; 2-year plan: 4 times.
· [Internal Warranty Service] Replacement or repair service provided by any DJI authorized repair center across the globe.
· [Rewards for Safe Use] 1-year warranty extension as a reward if no service is used throughout the service period.